DAVID CABEZAS
SÁNCHEZ
Rocket Yoga
Madrid, Spain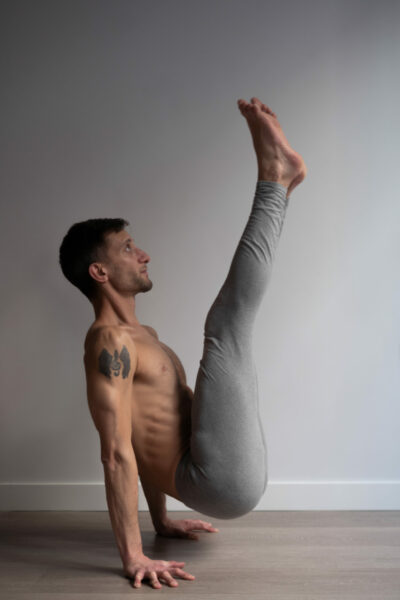 SCHEDULE
Saturday 16 September 2023  10.00 – 12.00
Rocket Yoga 1 – Salutations and Jumps
Sunday 17 September 2023  14.30 – 16.15
Rocket Yoga 2 – Arm Balance Introduction
Born in Caracas, David discovered Hatha Yoga in 2004 thanks to a friend with whom he shared his passion for skating.
From that moment on, he began to participate in different social and cultural movements with people at risk of social exclusion, with addiction problems, family abuse, etc.
It is in 2010 when he proposes to work for and for people continuously. He began as a musician in Yoga sessions with different instruments such as the Spanish guitar, Latin American flutes and the Afro-Brazilian Berimbau.
In 2015 David was invited by Ricardo Martin to travel to Thailand and trained as a teacher of Ashtanga Vinyasa Yoga (200 Hrs). He got certified by It's Yoga International when he finished his 300Hrs Rocket Teacher Training. Then he lived in London where he practiced in Indaba Yoga Studio and thanks to Work and Change or Karma Yoga he got to know different styles of Yoga. David worked hand in hand with international teachers such as Ambra Vallo in Italy being granted with a Level 2 Advanced Teacher Training 100Hrs. He finished his complete Rocket® Yoga training being certified as a Rocket Teacher trainer facilitator by It's Yoga 500 Hrs, the highest certificate of the It's Yoga international school.
Later he moved to London where he had the opportunity to learn Dharma and Forrest Yoga from internationally renowned teachers such as Ambra Vallo.
In the last 6 years he has dedicated himself to teaching, transmitting and promoting the tools of Yoga by teaching special classes, workshops, trainings and Yoga immersions both online and face-to-face in Spain and around Europe. He has continued learning as a practitioner and teacher having the opportunity to be assistant professor in international teacher trainings in Spain and Italy.
He currently lives in Madrid and due to his more than 650 hours of training and experience, he is officially accredited by Yoga Alliance as E-RYT 500H, Rocket Yoga® teacher trainer facilitator and YACEP provider.
Rocket 1 SALUTATIONS AND JUMPS WORKSHOP
Introduction to the group, breathing techniques, story of The Rocket and introduction to the Sun Salutation and variations.
Every Rocket practice starts with sun salutations, so it is very important to understand how our body and mind should work while practicing them. In this workshop we will work on the poses and transitions during salutations understanding how to create the vinyasa movement combining breathing techniques and bandhas activation.
We will cover different drills and variations for this sequence including jump backs and forward as well as floating so any student can deepen their understanding and confidence to improve their yoga practice.
Rocket 2 ARM BALANCE WORKSHOP 
This class includes a mobility introduction class, variations of the arm balances transitions and practice of Rocket 2.
Arm balances and transitions are part of all the Rocket series, adding a new fun challenge to our practice. In this workshop we will break down the key foundations of the main arm balance postures included in Rocket yoga.
We will cover different approaches and variations for all the postures and transitions so any student, beginner or advanced can deepen their understanding and confidence to improve their yoga practice.